Meet Our Faculty and Staff
Full Time Faculty

Taharka Adé, Ph.D.
Assistant Professor
Office: AL-371
Email: [email protected]


Areas of specialization: Afrocentricity, Africological Historiography, Pan-Africanism, African American History and Theory, Dubosian thought, and Afrofuturism

Antwanisha Alameen-Shavers, Ph.D.
Associate Professor
Office: AL-367
Phone: (619) 594-3352
Email: [email protected]
Areas of specialization: Role of African women in African civilizations, Black female and male embodiment

Adisa A. Alkebulan, Ph.D.
Associate Professor, Department Chair and Academic Advisor
Office: AL-373A
Phone: (619) 594-5174
Email: [email protected]
Areas of specialization: Pan-African Linguistics, African & African American history

Daniela Gomes da Silva, Ph.D.
Assistant Professor
Office: AL-363
Email: [email protected]
Areas of specialization: Afro-Brazilian and African Diaspora Movements, Hip Hop

Sureshi M. Jayawardene, Ph.D.
Associate Professor
Office: AL-369
Phone: (619) 594-6554
Email: [email protected]
Areas of specialization: Africana geographies and epistemologies, diaspora, memory, expressive cultures, spirituality



Anta Anthony Merritt, Ph.D.
Assistant Professor
Office: AL-358
Email: [email protected]
Areas of specialization: African American and African history, Politics of the African diaspora, Africana social and religious systems, Rastafari studies, Martial arts of the African diaspora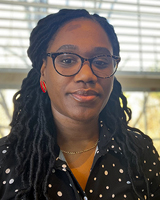 Charmane M. Perry, Ph.D.
Assistant Professor
Office: AL-360
Email: [email protected]
Areas of interests: Haitians in The Bahamas; Haitian diaspora; Antihaitianism; Stigma of being Haitian; Black Philadelphia and the desegregation of Girard College

Charles Toombs, Ph.D.
Professor
Office: AL-365
Phone: (619) 594-6532
Email: [email protected]
Areas of specialization: Africana literature, American literature, Black Queer Studies, Class and Urban Studies
Part-Time Faculty

Ajani Brown, M.F.A.
Lecturer
Office: AL-386
Phone: [email protected]
Areas of specialization: AfroFuturism and Social Justice/Political themes in fiction & comics, African diaspora



LaShae Collins, M.A.
Lecturer
Office: AL-386
Email: [email protected]



Kendrick Dial, M.A.
Lecturer
Email: [email protected]



Delores Fisher, M.A.
Lecturer
Office: AL-386
Email: [email protected]
Areas of specialization: African American music history in U. S. socio-cultural history



Theresa Ford, Ph.D.
Lecturer
Office: AL-386
Email: [email protected]





Sherehe Hollins, M.A.
Lecturer
Office: AL-386
Email: [email protected]





Starla Lewis, M.A.
Lecturer
Office: AL-386
Email: [email protected]





Mychal Odom, Ph.D.
Lecturer
Office: AL-386
Email: [email protected]

Dwayne Shaver, M.A.
Lecturer
Office: AL-386
Email: [email protected]

Tanis Starck, Ph.D
Lecturer
Office: AL-386
Email: [email protected]

Marcus Taylor, M.A.
Lecturer
Office: AL-386
Email: [email protected]

Esther Anthony-Thomas, M.A.
Lecturer
Office: AL-386
Email: [email protected]

Ebony Tyree, M.A.
Lecturer
Office: AL-386
Email: [email protected]

Staff
Kaia Brown, M.Ed
Administrative Coordinator
Office: AL-373
Phone: (619) 594-5341
Email: [email protected]

Emeritus Faculty

Shirley Weber, Ph.D.
Email: [email protected]
Dr. Shirley Weber is a Professor Emeritus of Africana Studies. She was a member of the department since its inception in 1972 until 2010. Educated in the public schools of Los Angeles, she has a BA, MA and Ph.D. from the University of California, Los Angeles in the area of speech communications. Dr. Weber is recognized nationally and internationally for her ground breaking work to establish the discipline of Africana Studies. Dr. Weber was previously a member of the California State Assembly, representing the 79th district. She is currently the California Secretary of State.
In Memoriam: Francis Njubi Nesbitt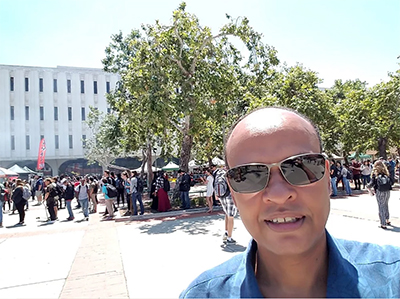 With a deep sense of sadness and loss, we write to report on the death of one of our own, Francis Njubi Nesbitt, Associate Professor of Africana Studies, who passed away suddenly on May 31 at the age of 56.
A native Kenyan, Professor Nesbitt received a B.A. in anthropology from the University of Nairobi in Kenya, an M.A. in international peace studies from University of Notre Dame, and a Ph.D. in African American studies from the University of Massachusetts, Amherst.
Before joining us in the College of Arts and Letters in 2000, he worked as a reporter and editor for the Daily Nation in Nairobi, as well as a reporter for papers in Seattle and Springfield, Massachusetts. His first book, Race for Sanctions: African Americans against Apartheid, 1946–1994, was published by Indiana University Press in 2004. This study was described by the late American anthropologist and United States Ambassador Elliott P. Skinner as "an important contribution to the political history of this period [and] a must for those interested in the influence of the great pan-Africanists." In 2012, he published Politics of African Diasporas with Lambert Academic Publishing. In addition to these monographs, he wrote articles and book chapters published in a number of journals and scholarly volumes.
For Africana studies, Professor Nesbitt taught courses such as Intermediate Expository Writing and Research Fundamentals, Black Political Participation in America, Political Economy of the African Diaspora, and Modern Civil Rights Movement.
As a scholar, Professor Nesbitt was passionate about the subject of civil rights and the struggle against apartheid. One of his goals was to hold a symposium titled "Coming to Terms with Apartheid: Resistance, Legacy" at San Diego State University. He also had plans to establish a center for the study of civil rights within the College of Arts and Letters. He was an enthusiastic blogger and public intellectual, and his public-facing work appeared in a number of fora.
Professor Nesbitt is survived by his wife of seven years, Teresa Nesbitt. She remembers him with great love as "a good, kind man" and "a gentle soul." She requests that in lieu of flowers, donations be made to any society or organization dedicated to eradicating disease. Professor Nesbitt's ashes will be scattered at sea; there is no memorial service planned.