Adisa A. Alkebulan, Ph.D.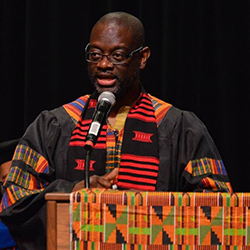 Office: AL-365
Phone: (619) 594-5174
Email: [email protected]
Dr. Adisa A. Alkebulan is an Associate Professor in Africana Studies at San Diego State University. He is a native of Cleveland, OH but also has strong roots in Philadelphia. He received his B.A. in Pan-African Studies from Kent State University and his M.A. and Ph.D. from Temple University. He has also done research in Africa and Europe on language and colonialism He is a major contributor to the Encyclopedia of Black Studies and the Encyclopedia of African Religions. His work appears in several disciplinary journals as well as in anthologies on rhetoric and Malcolm X. Dr. Alkebulan is an active scholar currently engaged in several research projects for publication and presents his research at conferences throughout the country.