Taharka Adé (Trey Lipscomb), Ph.D.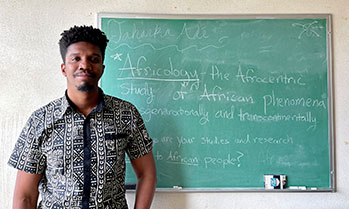 Office: AL-371
Email: [email protected]
Taharka Adé (Trey Lipscomb) is a native of Mt. Vernon, Alabama. He received a B.A. in history with a minor in African American Studies from Alabama State University and an M.A. and Ph.D. in Africology from Temple University. His research interests are wide-ranging but include Afrocentricity, Africological historiography, Pan-Africanism, African American history and theory, DuBoisian thought, and Afrofuturism. He is actively engaged in several research projects for publication; most recently he's crafted a treatise entitled, "Africolgoical Historiography: Primary Considerations" under review at Sage Open, as well as a book chapter, "Afrofuturism and African Philosophy of Time," included in Aaron X. Smith's The Afrocentric Future of Afrofuturism and to be published by University of Mississippi Press.