Daniela Gomes da Silva, Ph.D.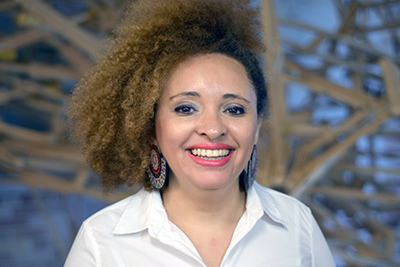 Office: AL-363
Email: [email protected]
Dr. Daniela Gomes is an Assistant Professor in Africana Studies at San Diego State University.. She is a Ph.D. in African and African Diaspora Studies with a certification in Women and Gender Studies by the University of Texas at Austin, M.A. in Cultural Studies with a certification in Media, Information and Culture by the Universidade de Sao Paulo, Brazil, and B.A. in Journalism by the Universidade Metodista de Sao Paulo.
Dr. Gomes is an activist in the Afro-Brazilian and African Diaspora Movement and uses her work to connect people in the African Diaspora. The focus of her efforts is to build international bridges to fight against racism around the globe.
Born and raised in a poor peripheral area of Sao Paulo, Dr. Gomes found inspiration in the Hip Hop movement to fight for new goals and perspectives.
In her book manuscript, Hip-hop salvação: Afro- narratives of the hip-hop generation in São Paulo, Brazil Or how hip-hop showed us the way out! Dr. Gomes presents Brazilian hip-hop's potential to work as a salvation tool—from racial alienation, conformity, lack of opportunity, etc.—for Afro-Brazilian youth within the hip-hop community in São Paulo, Brazil.
Dr. Gomes has developed several lectures and participated in conferences focusing on race relations in Brazil and other countries. She has also been interviewed by different media channels, such as MSNBC and AlJazeera English, where she talked about pertinent topics to the African Diaspora community in Brazil and abroad. In 2016, Dr. Gomes presented the TED Talk "O poder do hip-hop" during the TEDxSaoPaulo, where she was able to talk about her activism and its relations to the hip-hop movement. In 2019, she presented the talk The Impact of Bolsonaro on Brazil for the Blackademics TV.
Dr. Gomes work can be found in publications such as "The Revolutionary Generation: Hip Hop, Resistance, and Awareness in Sao Paulo-Brazil" in Words Beats & Life (2015); "'É nóis mano' – Hip-Hop diaspora, activism and Black empowerment in Sao Paulo," in In This Together: Blackness, Indigeneity, and Hip-Hop edited by Hudson, A., Ibrahim, A., Recollet, K. (DIO Press USA 2019); "Living the African-American Way of Life—Impressions and Disillusions of an Afro-Brazilian Woman in the United States" appeared as a chapter in the volume, Race and the Politics of Knowledge Production, edited by Gladys L. Mitchell-Walthour and Elizabeth Hodge-Freeman (Palgrave McMillan, 2016).