Antwanisha Alameen-Shavers, Ph.D.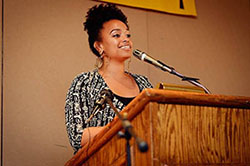 Office: AL-367
Phone: (619) 594-3352
Email: [email protected]
Dr. Antwanisha Alameen-Shavers is an Associate Professor in the Department of Africana Studies at San Diego State University. A native of Richmond, California, she earned her Bachelors of Arts degree in Africana Studies at SDSU. Her remaining degrees were granted by The Ohio State University and Temple University in Black Studies. Dr. Alameen-Shavers has published scholarly articles focusing on the role of women in African traditional societies and controlling images attached to Black womanhood.
Alameen-Shavers first article was published in Women of African Descent and Justice in World Societies, titled "Maintaining Harmony and Ensuring Justice: The Role of Women in Igbo Traditional Government" in 2014. The first person to analyze the stereotypical image of the Black woman as the "The Down Ass Bitch," a controlling image or an exploitive ideal, Alameen-Shavers critically illuminates its insidious nature and historical roots in her article, "The Down Ass Bitch in the Reality Television Show Love and Hip Hop: The Image of the Enduring Black Woman and her Unwavering Support of the Black Man" published in Black Women's Portrayals on Reality Television: The New Sapphire (2016). Her latest publication entitled "The Woman Question: Gender Dynamics within the Black Panther Party" analyzes the process by which gender equality was implemented and maintained within the organization.
She is a highly active professor; serving as a Faculty- in-Residence for Residential Education, Faculty Staff Mentor for the Division of Undergraduate Studies, Head facilitator for the Black Women's Healing Circle in the Women's Resource Center, the organizer of the Africana Women's lecture series held annually in March during Women's history month and the advisor to the Africana Studies Majors and Minors Association.
She is committed to challenging systemic oppression in the Unites States through education which is evident in the countless panels, programs, lectures that she has spearheaded or contributed to at SDSU amongst other institutions. She is happily married to Dwayne Shavers; both are parents to Nishala Shavers.