Africana Studies @ 50: A Retrospective of Art, Activism, and Scholarship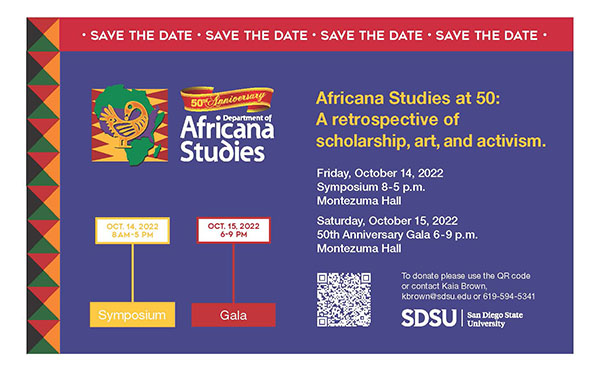 50th Anniversary Symposium
Friday, October 14, 2022
8-5 p.m.
Student Union Theatre, Room 270
Download the speaker schedule.
The symposium is by invitation only.
50th Anniversary Gala
Saturday, October 15, 2022
6-9 p.m.
Montezuma Hall
Keynote Speaker: Dr. Shirley Weber, California Secretary of State
Here are a few other highlights:
"Raisin in the Sun" theatrical production in collaboration with the School of Theatre, Television & Film
Exhibition of the works Bruce Onobrakpeya & Wole Soyinka
Lectures by Dr. Stacey Patton, Dr. T. Hasan Johnson, Margaret Kimberley, and Ajamu Baraka
Reservations are required through the purchase of table (8 guests per table). Reservations are due Friday, October 7. Please contact Kaia Brown, [email protected], for more information.

When Attention Outweighs Death: MREL, Andromortality, and Black Male Politics
Thursday, April 14, 2022, 4-6 pm
Student Services East, Room 1401
A lecture by Dr. T. Hasan Johnson
Dr. T. Hasan Johnson is an Associate Professor of Africana Studies at California State University, Fresno. He earned his doctorate at Claremont Graduate University, his M.A. at Temple University, and his B.A. at California State University, Dominguez Hills. He founded numerous Fresno State programs including the Africana Studies Online Teleconference on Black Male Studies, the ONYX Black Male Film Festival, The Black Popular Culture Lecture Series and Online Research Archive (curator), The ONYX Black Male Collective, The Annual ASHE: Sankofa Black Film Festival, The Annual Africana Studies Black Gender Conference, The African American Edge Initiative (co-founder), the Africana Studies Black Elder Project, and The Hip-Hop Research & Interview Project. He is the developer of the concept of "Black Masculinism" and frequently publishes on anti-Black misandry, anti-Black male heterophobia, intra-racial misandry, and White supremacy. His first book, You Must Learn!: A Primer for the Study of Hip-Hop (2012), examines the socio-political histories that contribute to the development of Hip-Hop culture and creates new theoretical frameworks for understanding its development.

Black Radical Perspectives on Ukraine
Monday, March 21, 2022, 5 pm
Join the Webinar
Our esteemed panelists will challenge the dominant US narrative of the conflict in Ukraine and provide a historical, political, and cultural corrective from a Black radical perspective.
Margaret Kimberley is Executive Editor of Black Agenda Report. She is the author of the book "Prejudential: Black America and the Presidents." She is also a contributor to the anthologies "In Defense of Julian Assange," and "Killing Trayvons: An Anthology of American Violence." Ms. Kimberley is a Coordinating Committee member of Black Alliance for Peace and an Administrative Committee member of the United National Antiwar Coalition. She is also a recipient of the Serena Shim Award for Uncompromising Integrity in Journalism and the Women's Institute for Freedom of the Press' 2021 Women in Media Award. She is a board member of Consortium News and the editorial board of the International Manifesto Group. Her work can also be seen at patreon.com/margaretkimberley.
Ajamu Baraka is an internationally recognized leader of the emerging human rights movement in the U.S. and has been at the forefront of efforts to apply the international human rights framework to social justice advocacy in the U.S. for more than 25 years. As such, he has provided human rights training for grassroots activists across the country, briefings on human rights to the U.S. Congress, and appeared before and provided statements to various United Nations agencies, including the UN Human Rights Commission (precursor to the current UN Human Rights Council). Baraka has also served on the boards of various national and international human rights organizations, including Amnesty International (USA), the Center for Constitutional Rights, Africa Action, and the Mississippi Workers' Center for Human Rights.



Judah's Revenge: The Lynching of Black Girls in America
Thursday, March 17, 6-8 pm
Via Zoom
A Virtual Lecture by Dr. Stacey Patton
Dr. Stacey Patton is an award-winning journalist, author, college professor, and nationally-recognized child advocate. Her writings on race, child welfare issues, higher education, and culture have appeared in The New York Times, Washington Post, BBC News, Al Jazeera and a host of other outlets. She has appeared on ABC News, CBS, CNN, MSNBC and Democracy Now. Dr. Patton's academic research focuses on the intersections of race and parenting, race and child development, andthe lynching of children. As a child advocate, she travels the country providing consultations, workshops, and keynotes to social work
professionals, clinicians, law enforcement, educators, and communities on issues of race and policy, cultural competency, culturally responsive education, as wells as child abuse prevention and racial disparities in juvenile justice. Dr. Patton is the author of That Mean Old Yesterday, Spare the Kids: Why Whupping Children Won't Save Black America, and the forthcoming books, Strung Up: The Lynching of Black Children in Jim Crow America, and Not My Cat -- A Children's Story.
Sponsored by: Instructional Related Funds



A Retrospective of Africana Art
Wednesday, March 2, 2022, 4-8 pm
Parma Payne Goodall Alumni Center
An evening of live traditional African music, dramatic readings of Wole Soyinka's work, and a moderated discussion between Nobel Laureate Wole Soyinka & Professor Bruce Onobrakpeya.
4 pm: Meet and Greet Reception
5-8 pm: Performance, Dramatic Reading, & Moderated Discussion
Seating is limited.



Performance: A Raisin in the Sun
February 17, 2022, 7 pm
Don Powell Stage
Join the Department of Africana Studies and the School of Theatre, Television and Film at San Diego State University as we celebrate Africana Studies @ 50 with a performance of A Raisin in the Sun. Writen by Lorraine Hansberry and directed by 'Niyi Coker, Jr.
Moderated Talk Back and Q&A with Professor T. Ford and the cast following the show.
The show runs Feb 18 to Feb 28.
MLK Annual Luncheon 2022
The luncheon will take place on Thursday, February 17, 2022 from 11-12:30 pm in Montezuma Hall.
In order to abide by all COVID guidelines (and our guest safety is most important to us) all guests will either need to be boosted or show proof of testing within two days of the event. In addition to this, masks are mandatory during the entire event. We will be providing a boxed lunch that people may take with them at the end of the event.