Charles Toombs, Ph.D.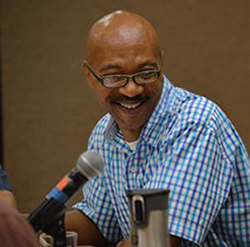 Office: AL-367
Phone: (619) 594-6532
Email: [email protected]
Charles Toombs is a Professor of Africana Studies at San Diego State University (SDSU). His areas of specialization and research include: Africana literature (African American, African, and Caribbean), American literature, and Black Queer Studies. His degrees are: BA (English), MA (English), MS (Industrial Relations), Ph.D. (English), all from Purdue University. He is Vice President of the California Faculty Association (CFA) and SDSU CFA and AAUP Chapter Presidents. He has published several works on African American literature and culture, including, "Harlem Renaissance in San Diego: New Negroes and Community" in The Harlem Renaissance in the American West, Routledge, 2012 and "African American Uprising" in California Literature, Cambridge UP, 2015. He has presented papers, chaired panels, and served on panels at professional meetings and conferences, including lectures and workshops on African American Literature and Africana Studies at Gorlovka State Pedagogical Institute of Foreign Languages, Gorlovka, Ukraine. He is a faculty consultant to the Educational Testing Service. He was selected as African American Educator of San Diego Country for 2011 by Phi Delta Kappa, Inc. He is committed to social and cultural justice, and is the 2014 San Diego State University Faculty Diversity Award recipient.