Department of Africana Studies
Why choose Africana Studies?
Africana Studies offers a broad, interdisciplinary program. The curriculum is designed to focus on a variety of subjects pertaining to the Africana experience. It is also concerned with strengthening links between black students and the black community, and developing frameworks for social change and the struggle for black dignity.
Africana Studies is a degree that can offer limit-less career opportunities. Students will learn strong skills in critical thinking, communication, research, writing and analysis, skills that are invaluable in most any field. A degree like this encourages you to follow your passions and interests.
Alternative Spring Break in Ethiopia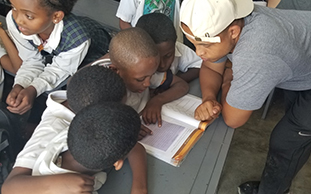 Spend Spring Break 2020 in Ethiopia and learn more about the historic significance of the country to Africana people worldwide. While abroad, you will be placed on a team to work in communities performing short-term projects while learning about such issues as cultural, resistance to enslavement, poverty, gender issues, educational and cultural literacy, and resistance to colonialism in Ethiopia.