Francis Nesbitt, Ph.D.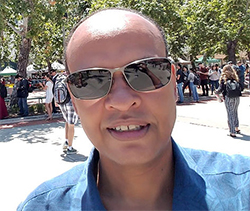 Office: AL-373A
Phone: (619) 594-5756
Email: [email protected]
Website
Francis Njubi Nesbitt is an associate professor of Africana Studies at San Diego State University. Previously, he worked as a reporter and sub-editor for the Daily Nation in Nairobi, Kenya; an investigative reporter for the Seattle Skanner in Seattle, Washington; and a reporter and copy editor for the Union-News and Sunday Republican in Springfield, Massachusetts. He is the author of Race for Sanctions (2004) and Politics of African Diasporas (2012). He has published numerous book chapters and articles in journals such as African Affairs, Critical Arts, Journal of American History, International Journal of Southern African Studies, African Issues, Mots Pluriels, Loccumer Protokolle, KulturAustausch, African World and Africa World Review. He is a regular contributor to Foreign Policy in Focus. His articles on Africa and foreign affairs are published in numerous newspapers and magazines around the world.